Nazi liquidation of Dutch institutions
With the pilfering of the various institutions; well, in the old days it was called
in German "klauen" (pilfer), now it is called in German "einnehmen" (take in).
Let me use the old way, that is:
With the pilfering of the various institutions, like:
De Joodsche Invaliede (The Jewish Invalid) in the city of Amsterdam
Het Joodsche Weeshuis (The Jewish Orphanage House) of The Hague
Het Apeldoornsche Bosch (The Apeldoorn Forst) of Apeldoorn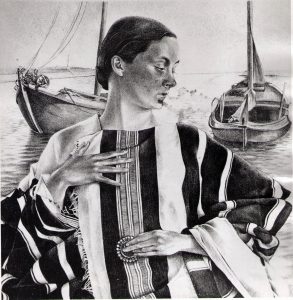 And various others in the country – including very many synagogues – their inhabitants left for an unknown destination somewhere in the East.
Suddenly there was an oversupply of shawls, an abundance of scarfs, mostly wool, but also made of silk and rayon, many of which were old ones, worn out, but also specimen, beautiful and valuable.
They were stocked generally in the art stores. Prices were high; where they came from, what they were used for, what purpose they were served for, no one knows.
In fact, a well known artist had a beautiful picture made of a woman , draped with a most gorgeous shawl.
It is on sale…
Of course no one – passers by – know whether this woman wears a shawl, a scarf, whether she has on a morning coat or a pajama.
But this button, this broach , she is displaying is not in its place, does not belong to it!
Of course no one knows what this all is.
But I do.
It is the "Prayer Shawl" with the Holy " tsitzes" ( fringes) used by every adult male during every day's morning services.
And I have got the picture!
Excerpt from the Frankenhuis Collection Memoirs, Volume 6