Rita, the good soul, the "Angel" as my mother calls her, stands in front of her house, knowing the time about which I would leave and accompanying me
a little way on my road to lighten the heavy gait. "Here is something for the nerves" when she pushes a little bottle into my hand and dropping a few pills in one of my side-pockets." When you enter the lodgings, you take a tablet." How good it is at this moment to have a human being who has got pity on you, to relieve you from your pains and what is more, to hear her prophecies "that this spook will only last only another couple of months."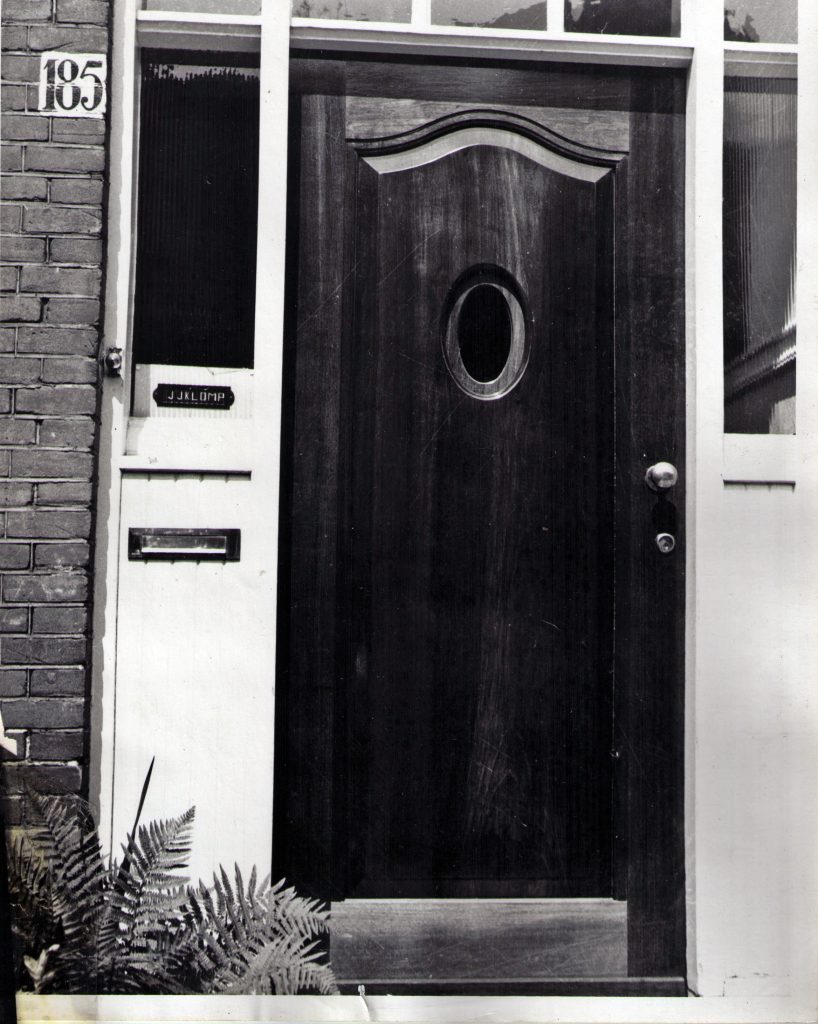 So I arrived : Galileïstraat 185. On the 1st floor I have got a back room. A room which I will leave only on very rare exceptions. No one but the proprietor and his wife will ever set foot on this this floor, From this moment on, this nameless Jew anxiously covering his yellow star will occupy this room and call this his home.
I pretty much was ashamed when I think of the state I arrived here. "Awful", "Awful" I moaned from time to time . I wailed, I moaned. Kl. trying to put me at ease, asking me what he can do for me and I subsiding into an armchair timidly asking him to leave me in peace for a little while that I would like to be alone and to cry….
And I was alone and I cried, staring at the tulle curtains with the great green dots uninterruptedly. As if this gaze would give me enlightenment in this great hour of trial.
How long I have persisted in this obtuseness, motionless, speechless, I do not recollect any more. Until I took the energetic: "now pull yourself together and don't give yourself up." I tear myself out of the armchair and try to get used to my new environment. But my exertions have little success. As I try to get used to this new place, again what I could utter "terrible", "Awful". Contemplating things again, "After all I am here and do not want to be a burden to these people – who, without any financial advantage, took me into their house", "It is an abomination to be here all the time, all by myself".
But don't show it to these people. Be normal, act normal. I have no other choice. And I want to live and to keep on living and with me, my family…. I want to outlive all this. I will bear everything and every burden put on my shoulders. When I only can live on and with me my family and we reunited again.
I look in the mirror. Is that me? I got a fright when seeing this face – Distorted – twisted. And to myself, smile now – and I smile. But that's even worse. Don't look in the mirror again. That's right, I won't look again.
The owner's wife comes in to take off the yellow star of my coat. She already took care of the one on my overcoat. I asked for the overcoat back and deposited and tucked same inside the lining of these garments. A thought flashed thru my brains in case having to flee from here be on the street or road again – and without the David star- so I could easily pin these on again easily, they are accessible. And in no time, the owners sets me at ease, advises and tells me to read all the books which are lined up in the bookcases. I look thru them, some 30, 40 and 50 years old. But what does that matter? As long as this reading distracts your distressed thoughts , they are good and useful. I don't want to think of my children. I won't think of my family. Will live from one day to the next until the time of this ordeal is over. "And in 14 days the English are here. Then the invasion starts," Dr. W. prophesied. 14 days already passed since. Nothing has happened. Occasionally you hear the buzzing of airplanes flying over the country. It is like music in your ears this low buzzing of its propellers. A great symphony or hope ascends from these machines. And may it may be over sooner than we think? When? When will this moment be?
It is my duty to map out the day and in such a way that I am occupied all day long. That I have not got one minute to worry, to think, to contemplate.
There are no fears of any new measures, decrees, regulations of the Germans any more that is for me. I am in between 4 walls, nobody knows of my existence and no decree or teasing can have any more effect on me.
I can map out my way of life. I am at liberty to do whatever I want here in this new dwelling, after all the horrible experiences – the fright, the anxieties of the past. What is the course of enduring all these hardships? Why is it ? Why have these hard times been put on my shoulders? Why?……….. There must be a reason for it. Maybe, as the orthodoxy, year in, year out, day in, day out- hammering at it, that the Jews have not fulfilled God's commandments as laid down in the holy Torah. Been disloyal hence the proof he is going to punish them. There must be a motive, as how God punishes us so severely, so harsh, so mercilessly. And God is good, and God forgives and is kind….. Have I not fulfilled His commandments, followed the laws as commanded? Yes, I have been unfaithful. I have lived like a heathen at times, Yes, in some respects I have followed His commandments, but only when it was for the convenience. To have and celebrate the Friday evenings, with a table laden full of dishes and delicacies. I talked myself into doing my duties, in going to the Synagogue once in a while, make a blessing before the beginning of the holy Sabbath and performing the ceremony at the conclusion or this day. But these were pleasant ceremonies giving pleasure, caressing your heart. But what about the other obligations to be fulfilled by every Jew.
Of course I did not fulfill these…. Is this the reason for having to go through such an ordeal? But what about the pious ones? Did they and are they not going thru the same horrors, as myself? They did their duty, fulfilled God's commandments. And did not some of the ones, some with money, some with shrewdness, some with their tricks, the unbelieving ones, not get away as what I and many others had to go through? Some fleeing the country, to Belgium and on to France, Switzerland.. they without suffering and the hardship of this unmerciful foe, teasing, vexing their meek victims, which she now has in his claws. We Jews to be treated as free game……
What is it, why is it , how is it possible that this can exist, in this world… I don't know, I can't tell, I can't judge. Only if I knew, if there were set rules , but I have no guide, no manual, so as to know how to conduct the way of life.
So it is to believe it or not to believe it.
But now, I cannot afford – now in the midst of the misery – not to believe in what orthodoxy prescribes and dictates and say and pray morning and evening: "and thou shalt love the Lord," "And I command thee this day," "and thou shalt teach them diligently unto thy children," "and thou shalt bind them for a sign upon thine hand and between thine eyes," "and thou shalt…. and I command thee "… "and when you love the Lord, your God, and serve him with all your heart, that I will give the rain of your land in its season and I will give rain, and I will give corn and I will give wine and I will give grass for your cattle and thou shalt eat and be satisfied."
But if ye turn aside and you…" The anger of the Lord be kindled against you, and He shall shut up the heaven and there will be no……
Are these prayer books not a guide and not a manual, as how to live and go through life? Is this not clear enough? You want more proof? Now that I have turned aside, now that I have.. that I have… that I have not… . Now when I think of all the miseries, of my 2 daughters the whole family scattered in the four wind directions now on this day, this 9th day of Tisha B'av, I pray to Thee o God to forgive me, turn Your face towards me again and I will follow your commands. I will .. so that I shall not be afraid of the terror by night, nor the arrow that flieth by day, nor of the pestilence that walketh in darkness of the plagues that ravages at noon day. In the morning I will, in the afternoon……in the evening I will.. and before retiring and putting my heavy head on the pillow….. "to deliver me from the snare of the fowler and take me under His wings……..
And I prayed, and with such an intensity that God must have understood every word be meaningful…
I had to hide the little prayer book which I took clandestinely with me and also the tefillin to be used every morning, in and between the rows of books – as if it was pornographic reading matter.
The Almighty has turned against me, but He is good, forgiving, and he will forgive me and pardon me, and with me, my children, my wife, my family……He will turn his face towards His people again……..
Excerpt from Frankenhuis Collection, Diary Volume 1 "Hiding Us in the Hague"