Rita Boijenk, was a Righteous Gentile living on the same street in the Hague, who assisted the Frankenhuis family during the war years by arranging hiding for 13 persons, and visitations between the family members offering emotional support. While the Frankenhuis family was incarcerated in the camps, she managed to elude her direct connection and was instrumental in helping save them from deportation to Auschwitz via the Jewish Council. She earned the title "Angel" because of her devotion in saving the lives of the Frankenhuis family.
From the Memoirs:
This is where Rita (Boijenk) lived. An upper floor apartment, in the Van Alkemadelaan.
A number 33, a house nothing but full of goodness – honesty – virtuousness.
Only 16 and 17 houses respectively away from me and Alfred (Maurits' brother). Where we went to when in distress, trouble or anguish. And when we were out again, we were revived – thru the advice, reassurance and consolation from here.
Also number 33 but a house nothing but of crime, felony, wickedness.
After my return – in hiding, imprisonment in Scheveningen jail, punishment/Free camp Westerbork, concentration camp Theresienstadt, I had a scroll made, which I presented to Rita:
MEMOR DON OBLIVICITUR
( THE GRATEFUL WILL NOT FORGET )
Frequent communication between Maurice Frankenhuis in New York and his brother, Alfred, in the Netherlands, with updates via Telegrams on Rita's sudden illness, and subsequent passing and funeral.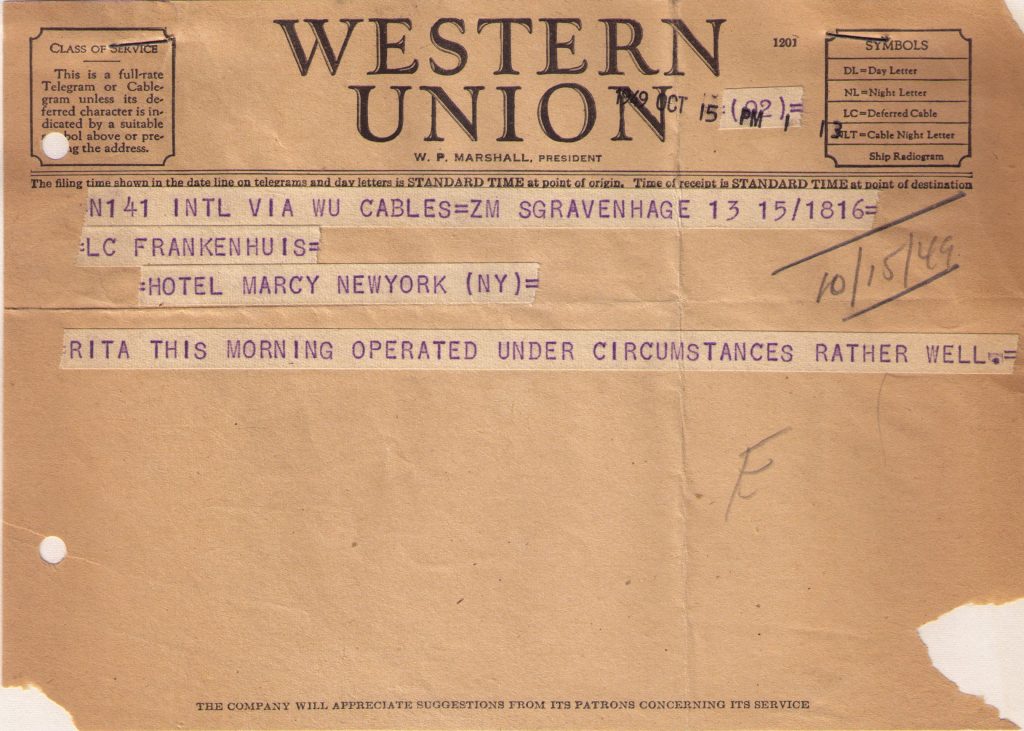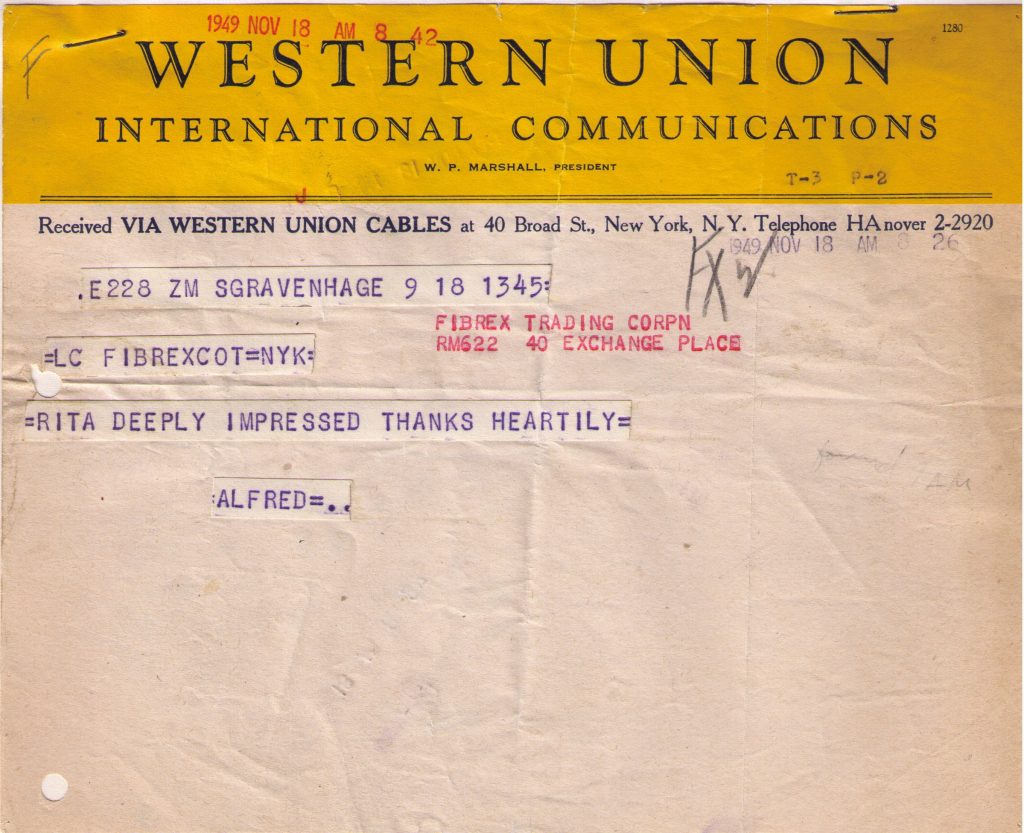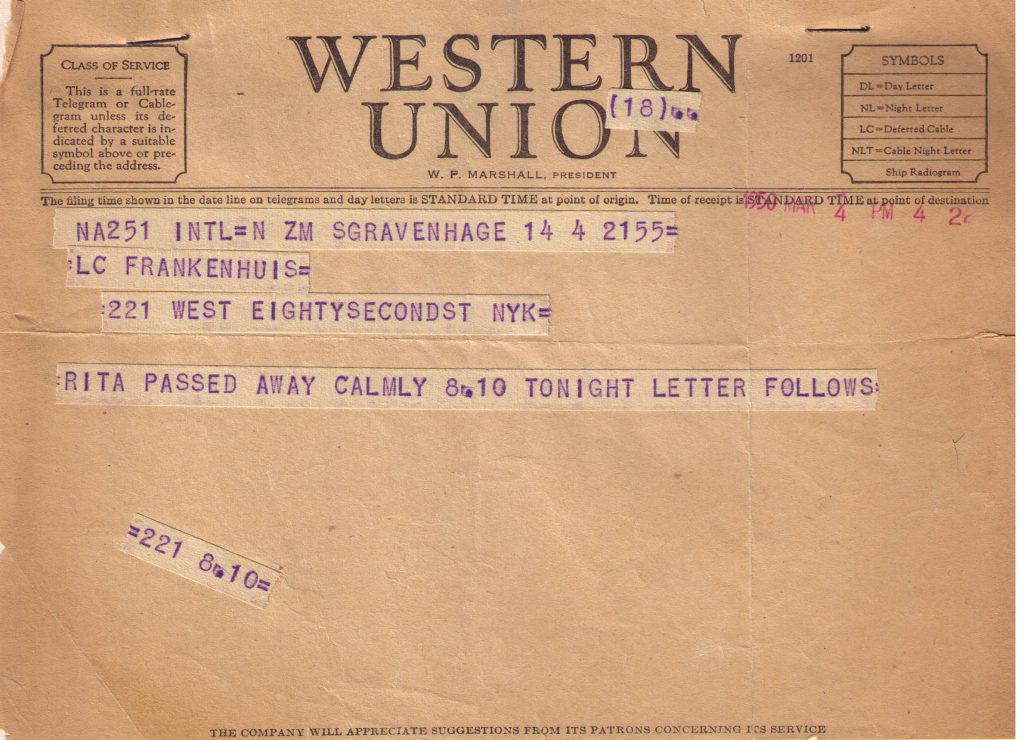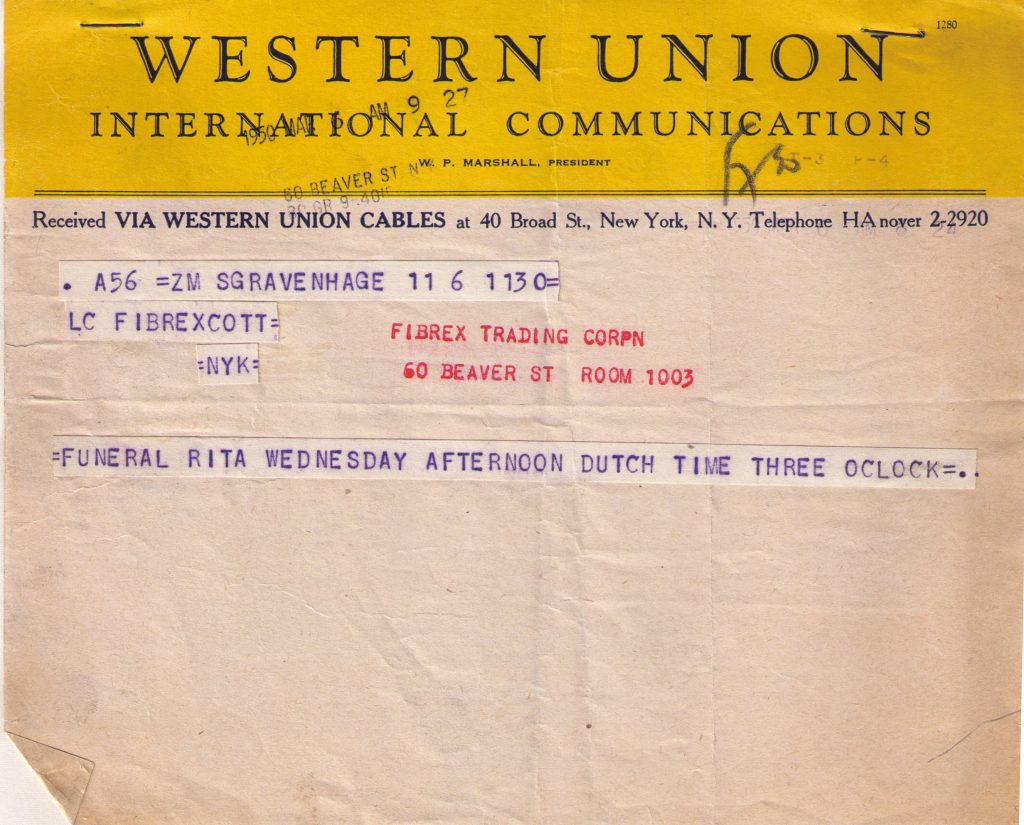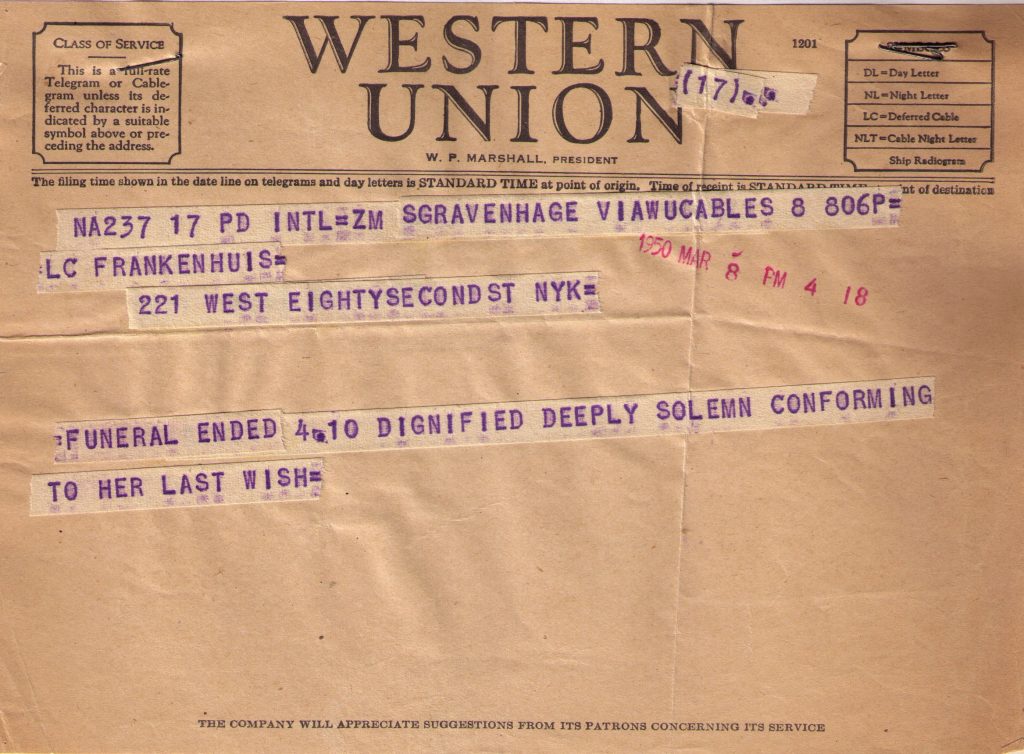 Niemand heeft grootere liefde.
Dan dat hij zijn leven inzet voopr zijne vrienden
Johannes 15:13

Greater love has no man than this, that a man gives up his life for his friends John 15:13
My dear Rita,
Today the day has come, which we have recently expected, but we have feared even more. Wanted, because then we knew that you, dear Rita, your suffering from which you would be delivered; feared, because we will so desperately miss you.
I do not want to speak many words to you and words of thanks would sound banal here. With your life we are happy for the opportunity to say goodbye to each other and everyone wish expressed by you for after your life will by us, humanly spoken.
However, I want to speak on behalf of my wife and children and above all on behalf of my brother Maurits and his family, who live in America and who are currently in your thoughts at this farewell of you with their whole heart and soul.
I have just said that words of thanks would not be sufficient here. However, I now want to be with us at this sacred moment Say goodbye to the Almighty, that He is your way of life and has allowed to cross with mine. During the many years that we know each other, you have always brought happiness for me, my family and extended family. All that you undertook and performed for us was with crowned success. For us you always meant the good Genius. You were Rita. When we had difficulties, it was you who by your great logical mind and good heart brought the solution and we always went away with an uplifted heart. In May 1940 when our country was overwhelmed by a barbaric enemy and we, Jews, were threatened as never before in our history. You took, dear little woman, the decision to help and protect us as necessary and if it had to be at the expense of your life. You have done this and sustained us from the first minute to the last with one love, conscientiousness and devotion to duty, which is not understated. Never will I forget the day in September 1941 that you went to visit my old Mother, who was forced to move to Amsterdam – in just one day, again with so much injustice. You then made a decision and took my mother to the hiding place in The Hague, which we found in good people and never will I be able to let go of the image, then you came in with my dear mother on that late September day, both radiating with happiness. I saw you both in one line, two sweet little, big women. My mother wrote about this event to my brother: "and then Rita came and it was like an angel came from heaven to save me". And later after the liberation, when my brother with his family by your actions returned from the camp, his first course, with fear of death in his heart, to you, whether you were still alive. With your dear mother he said the words: "Mother, you can be proud, that you have such a daughter in the world". I hope that these words will always be for your dear mother a great consolation for her so irreplaceable loss.
Your life was short but rich and valuable and you leave an empty one place behind, for which nothing could ever take its place. We will always keep your name, your memory with great gratitude kept in our hearts and always try to serve as an example to set. You meant: the good. We now sincerely wish you well deserved rest and now I say goodbye to you, rest softly. Dear dear girl.
Letter from nephew to Maurice Frankenhuis in New York:
V23.03

Opgedragen aan de Nederlandsch Nevormde Gemeente Duinzichtkerk te's Gravenhage, ter nagedachtenis aan
Rita Boijenk

Dedicated to the Dutch Reform Municipality of Dunkirk in the Hague in Memory of Rita Boijenk
Excerpt from Frankenhuis Collection, Memoirs Volume 23 – Rita