No sooner than one week after returning to Holland from concentration camp, Maurice Frankenhuis sent the following letter to Prime Minister Winston Churchill requesting he hand-write a letter and sign with his autograph, to replace the one he previously collected some 25 years prior.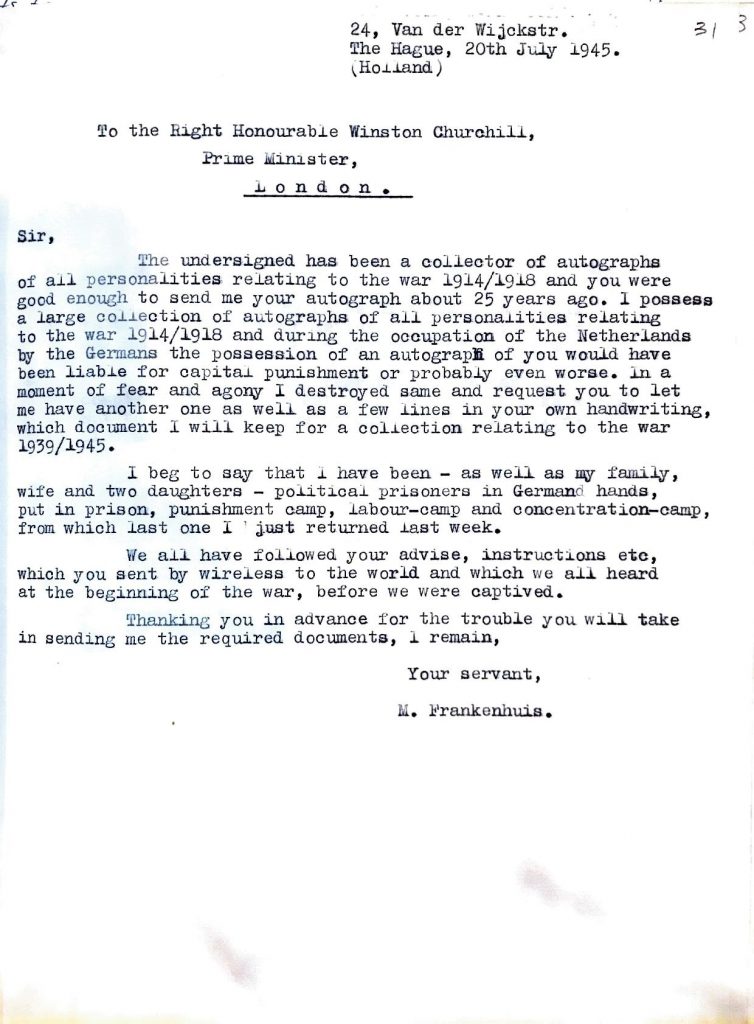 24, Van der Wijckstr.
The Hague, 20th July 1945.
(Holland)

To the Right Honourable Winston Churchill, Prime Minister,
London.

Sir,
The undersigned has been a collector of autographs of all personalities relating to the war 1914/1918 and you were good enough to send me your autograph about 25 years ago. I possess a large collection of autographs of all personalities relating to the war 1914/1918 and during the occupation of the Netherlands by the Germans the possession of an autograph of you would have been liable for capital punishment or probably even worse. In a moment of fear and agony I destroyed same and request you to let me have another one as well as a few lines in your own handwriting, which document I will keep for a collection relating to the war 1939/1945.
I beg to say that I have been – as well as my family, wife and two daughters – political prisoners in German hands, put in prison, punishment camp, labour-camp and concentration-camp, from which last one I just returned last week.
We all have followed your advise, instructions etc, which you sent by wireless to the world and which we all heard at the beginning of the war, before we were captived.
Thanking you in advance for the trouble you will take in sending me the required documents, I remain,
Your servant,
M. Frankenhuis.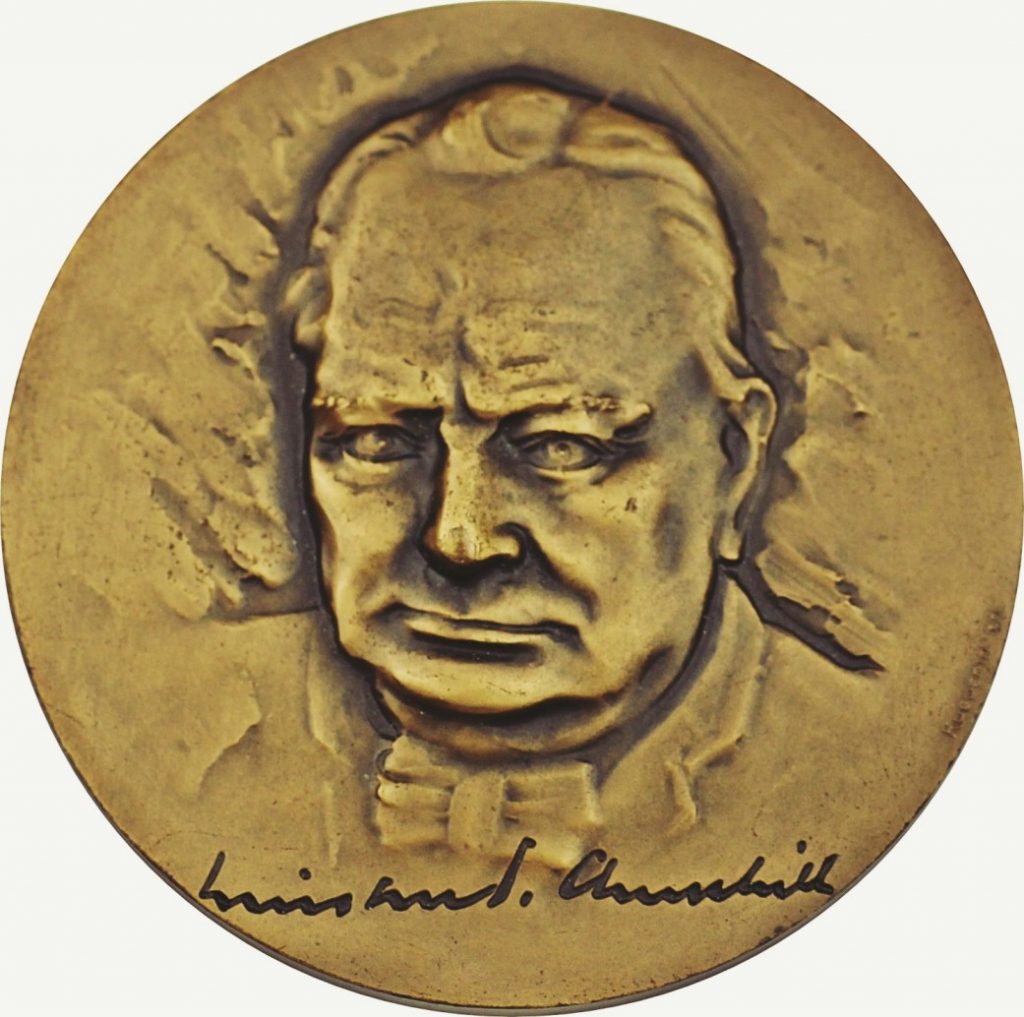 Maurice Frankenhuis' gratitude to Winston Churchill prompted this Birthday Greetings Telegram: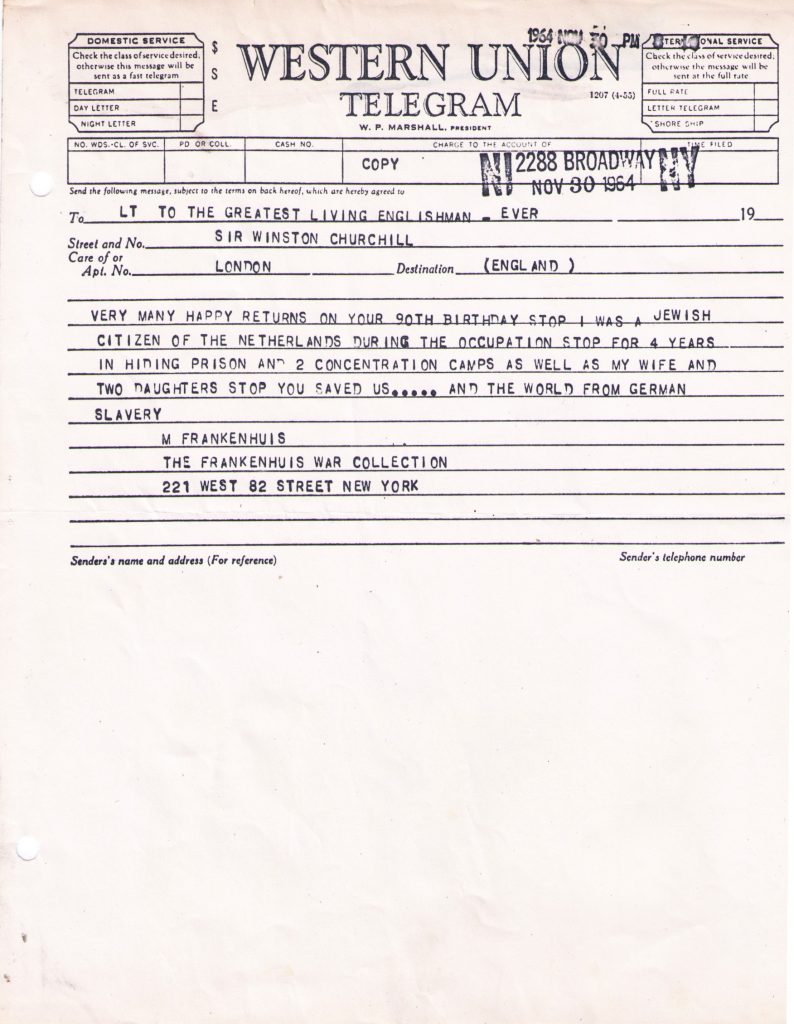 WESTERN UNION TELEGRAM
LT TO THE GREATEST LIVING ENGLISHMAN – EVER
SIR WINSTON CHURCHILL
LONDON (ENGLAND)
VERY MANY HAPPY RETURNS ON YOUR 90TH BIRTHDAY STOP I WAS A JEWISH CITIZEN OF THE NETHERLANDS DURING THE OCCUPATION STOP FOR 4 YEARS IN HIDING PRISON AND 2 CONCENTRATION CAMPS AS WELL AS MY WIFE AND TWO DAUGHTERS STOP YOU SAVED US…..AND THE WORLD FROM GERMAN SLAVERY
M FRANKENHUIS
THE FRANKENHUIS WAR COLLECTION